---
---
Call now to schedule an appointment!
Your Drain King Business Information
Name:

Your Drain King

Address:

4800 Whitesburg Dr




# 30-255




City:

State:

Zip Code:

35802

Telephone:

(256) 586-9138

Fax:

n/a

Website URL:

Facebook:

Twitter:

n/a

Categories:

Your Drain King

Hours:

M-F 7am-5:30pm, Sa 7am-1:30pm, Su Closed

Services:

n/a

Products:

n/a

Brands:

n/a

Coordinates:

34.692999

,

-86.570121

Accepted Payment:

American Express, Cash, Check, Discover, MasterCard, VISA
About Your Drain King
Your Drain King is an expert plumbing company with over 60 years of experience and professional knowledge. Our success in the plumbing industry is attributed our competent service and hometown approach. We understand the importance of providing consistent, high-quality service.

Our trained team is ready to serve Huntsville, Arab, and Albertville areas when they need it the most! Your Drain King's professional crew strives to complete each plumbing job quickly and efficiently. We understand the importance of having your drains, gas and water heaters, sewers, and other plumbing fixtures running smoothly.

We are committed to employing cutting-edge plumbing techniques, and this allows us to provide our clients with modern solutions for their business or home. With the constant influx of new plumbing solutions, it is important to have quality, up-to-date plumbing fixtures in your home. We also know that many of our clients are in the midst of remodeling their Huntsville, AL homes, where prompt service and quality work are important assets of completing the job on time.

Our conscientious team aims to deal with each of our clients in a friendly and professional manner. We promise to treat each of our valuable clients with care and consideration for their individual schedules and requirements.We're proud to have provided excellent service to our clients throughout North Alabama for the past six decades. Regardless of the type of service required, our professional team will work quickly on each plumbing assignment to provide our clients with effective and affordable solutions to Huntsville, AL and surrounding areas.
Photos & Pictures of Your Drain King (view all)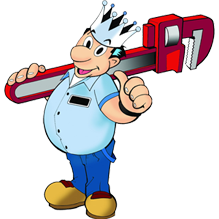 Map
Other Businesses in Huntsville: